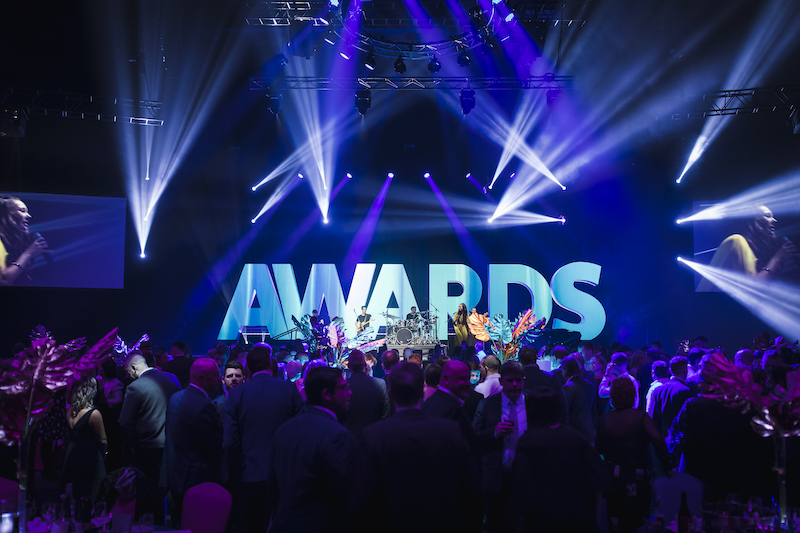 Lighting creates mood and atmosphere and can immerse your audience into a world of your creating. At Novatech we know how to transform tired and bland event venues using clever, creative lighting design. From simple stage uplights to a fully immersive digital installation, our expert lighting technicians and extensive range of industry-leading equipment will deliver the best and brightest experience in full luminous colour.
Our corporate event lighting services include:
Uplighting
A simple, yet effective way to create an atmosphere or bring themed colours to your event. From small lights painting a strip of colour up the walls of your conference room to large, high-powered LED fixtures illuminating the sides of multi-storey buildings, uplights will bring character, ambience and drama to any event.
Colour washing
We'll cover your event space with colour and texture by sweeping shapes and beams across the floors, walls and ceiling spaces. Colours can be changed on cue and timed lighting movements can bring drama and focus to key moments, such as the announcing of award winners or introducing a performance.
Gobos
Gobos are an easy way to show off your logo (or your sponsor's logos) or create messaging in lights. Gobos are small discs used to project images, logos, patterns, text and more onto the walls, ceilings and floors of your event space. They can be fixed in a static position or used in moving lights as part of your overall light show.
Digital installations
Using high-powered lighting and projection, we can create a stunning visual spectacular on almost any surface. Imagine the front of your building washed with beautiful art made entirely from lights, or a 360-degree display of interactive lighting and projection to transport your guests to an underwater wonderland. By combining our expert event lighting and innovative digital projection, you can create almost any theme or effect for your event.
Remote controlled table lighting
With our range of smart LED table centrepieces, your tables can now be an interactive part of your event. Our centrepieces can be programmed to light up on specific event cues or change colours at designated times. And being wireless, they can also be used to illuminate guest pathways or as cocktail party décor without any unsightly cables getting in the way.
To find out how we can master the experience for your next corporate event or meeting with lighting, contact Novatech today.